"AWAY": Travel and travellers by ArtZone42 Gallery
Efthymios' participation in "AWAY" Summer 2023 group exhibition with the theme: "Travel and Travellers" organised by ArtZone42 Gallery in Athens Greece.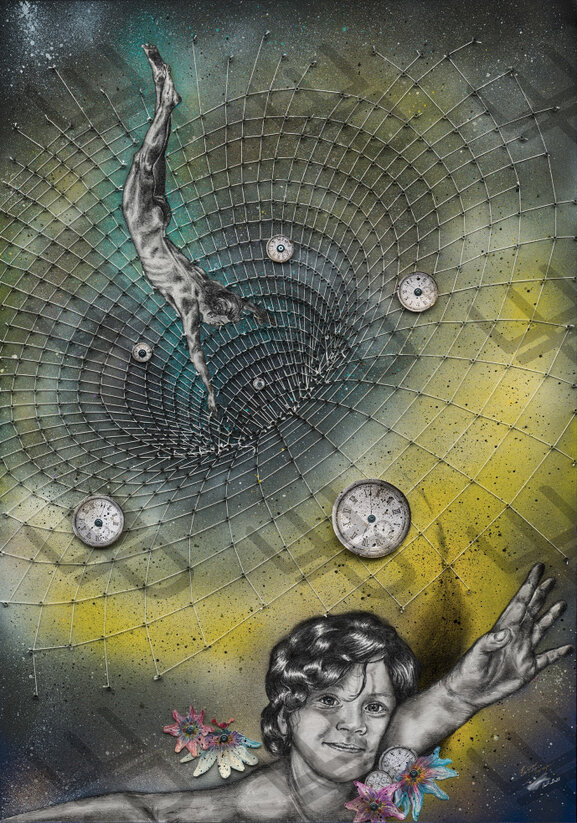 "
Travelling
in spacetime through an Einstein-Rosen bridge".
Mixed media technique with acrylics, charcoal,
watercolours
, inks, steel screws and cotton thread on plywood, 100x70cm, June 2023.
Model: Otis Brian Fisher
An adult space traveller dives into an Einstein-Rosen wormhole, which transports him back through time and space. He intends to meet his own self, when he was still a child, and the terms work stress and modern-day life responsibilities were unknown and distant concepts. He travels naked and free from everything that he wants to forget, so that his new life - that begins next to his innocent self - won't be once again stressful, oppressive, and boring.
More material is accessible from the dedicated blog record by clicking on the icon below:

Duration:
14 - 29
July & 19 - 23 September 2023
DISCLAIMER:
In the case where a third-party artwork or an event organised by a third-party (e.g., a group exhibition) is referenced, presented (partly or in its totality), analysed, and possibly commented using text and/or graphics (e.g., logos, photos, brochures, press release material), the web site owner fully recognises the copyright ownership by its legal owner(s). To avoid possible misconceptions regarding copyright infringement, references and URLs which define the copyright holder(s) are provided. The legal copyright owners are encouraged to communicate with the web site owner and suggest improvements or ask for deletion of the aforementioned material if deemed necessary. The information contained in the current web page is provided for the artworks' and/or events' promotion and for your personal, non-commercial informational purposes or/and for pure academic use on art via the proper citation. You should not be benefited in a financial way by this information without the written consent of the legal copyright owner(s). Kindly read the web site's
Terms of Use
.